Sure, print and TV ads have declined in effectiveness over the past few decades, but companies have a new opportunity to reach their clients and an audience like never before: online videos. Online video marketing offers the chance to tailor content as needed. Here are 5 key tips that you'll need for an excellent video marketing campaign.
It's not all about the quality but the quantity.
It may be tempting to go for broke by investing all of your budget in a single high-production video and hoping it becomes a breakout success that transforms your brand image, puts you ahead of competitors on thought leadership, or drives millions of dollars in sales. While this is not impossible to achieve, the vagaries of online attention mean it is a huge gamble to do this. Instead, you should view your videos as having a plural capacity; i.e., as part of a wider content marketing campaign intended to generate ongoing and sustainable outcomes as defined by your purpose. Then, as this purpose may evolve (from educating a market, through thought leadership, to sales, etc.) you can match your video content to suit.



You're also likely to get it wrong — or at least it may not be optimal — the first time you create and launch a video (not to mention there may be a lack of momentum, unless you're already a household name), so you'll need time and money in reserve to make changes and improve on your first effort.
To save on time and budget, why not shoot three to five videos at the same time as part of a related series? Then, you can release them when the timing best suits you.
Use what you have.
You'd be surprised how much video you already have, or could have at your fingertips. If you've spoken at an industry event, why not ask if someone did live event videography and if you can have a copy of the video? Check to see if any of your executives have been on TV, or if your company has done any recording of product testing and development.
If you don't already have content, then there are plenty of easy ways to generate great video content that lets customers see inside your company and feel more connected, like:
• Staff interviews (from the executive team to the tea boy)
• A "day in the life of" video of your staff
• Guest interviews (if your customers often visit your office)
• A tour of your office or campus building
Leverage events.
The second best way to get easy content is to leverage events, especially for corporate video.
Events provide you with a cornucopia of great content opportunities, including:
• Interviews with international staff who are not normally on hand
• Interviews with your visitors to the stand
• Interviews with the speakers at the event
• A time-lapse video to show the buzz around your stand
• Live product demos (with a delighted/impressed audience in the background)
• Your presentations (if you're speaking on stage)
• A mini-presentation at your stand (even if you're not on the official program)
The key is to be creative and use resources like business events as efficiently and effectively as possible to generate a lot of original content in one go.
Make sure your video works across devices.
More and more executives are accessing content on the go, i.e., across multiple devices including iPads, tablets, and smartphones. You need to make sure that your videos are optimally displayed when viewed on these devices, as well as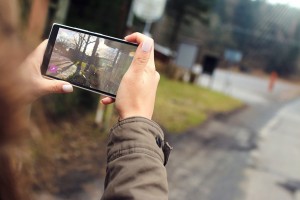 the real estate that surrounds them, which provides a place to include calls to action and other conversion tools. When choosing your distribution channels, ensure that at least one of them is properly formatted for responsive design, and allows for video playback across multiple devices (remember, for instance, iPads don't support Flash). This is why YouTube marketing is always a reliable strategy, because the site can easily be accessed regardless of device.
Make it interactive.
Tools like Mozilla's Popcorn are starting to expand the possibilities of what you can do, in-screen, with your videos, such as adding dynamic content and maps, or asking for a response within the frame of the video. To get a better understanding of the possibilities, you can experiment with Popcorn, or watch their TED talk. You can also add an interactive layer to a video on sites like Vimeo or YouTube, where features like cards and annotations are available, each with their own purpose and chance to allow interaction. An annotation can plug a phone number or website to check out during the video, while a card can link to a related video or several videos in a series, just to give some examples.
Keep these video marketing tips in mind the next time your company is planning to launch a new campaign, and be sure to utilize the variety of video production services that can contribute to a unique and memorable campaign.
For more tips call us, Boston video production Skillman Video Group, LLC at anytime at 1-800-784-0140.