Top Marketing Tips for YouTube Videos
Viral, online traffic, likes, keywords, and internet presence- these are just a few words and terms that we have become all too familiar with. More specifically, these words and terms have not only become attributed with success, but are now required for success. It is essential that all successful businesses seeking growth look to the internet. Online websites and videos provide public platforms for any company or individual looking to share their product and/or service(s) with the world. Regarded as one of the top three search engines on the internet today, YouTube has become essential for business. Video provides a quick and efficient way for potential consumers and customers to see who you are, what you do, and [most importantly] what you can do for them. It gives three-dimensional life and meaning to words and sentences otherwise read on websites or pieces of paper. Videos are the absolute best way to market yourself, and YouTube is the best place to do it. The question then becomes: what techniques and tips can I use to improve/boost my YouTube marketing success?
How to do YouTube Marketing
First thing is first: you have to have a great, engaging video. New smart phones have vast capabilities that make it possible for anyone to create footage – but what separates you from the rest? Quality. Before even getting into the content of what you're shooting, you have to make sure the WAY in which you shoot is professional and of the highest quality. Video marketing companies, like Skillman Video Group, function as your video strategist and cinematographer. We make sure that all components of the shoot are at their best: professional lighting, camera equipment, lenses, sound equipment, and editing software to list a few. Our Boston videographers also ensure that your video is formatted to have the best quality represented on YouTube. Shooting videos in a 16:9 format, or 480p, guarantee the video is crisp, and visibly satisfying.
YouTube Marketing Tips
So, you have your Boston videographer from SVG all set up with his/her stellar equipment, ready to make you shine- what's next? Content. It is important that your content balances information and knowledge with creativity and authenticity. Choose to create videos with subject matter and effects that are equally as compelling as they are addressing of audience needs. Creating interesting, unconventional videos tend to strike curiosity in the viewers, and promise to have people coming back for more videos. Various surveys recommend that videos be shorter than 10 minutes; this, actually, provides a great opportunity to create several different videos rather than one long one. Avoiding terribly long videos keeps the anticipation and enjoyment abuzz. It's also very important that you put YOURSELF in videos where you can! An advantage of using video is it provides the opportunity for consumers and viewers alike to see the face behind the company; the human personality behind the written words.
YouTube Marketing Strategy
Let's say you've taken your corporate video ideas to our Boston professional production company. After time working on the logistics and feel of your video, we've professionally shot it and delivered to you a video product you can be proud of – how do you go about making your video successful on YouTube? You make it easy to find.
You want your video to appear first when people search for you, your product/services, or something similar to. There are simple and easy tools you can do to help facilitate this. When posting YouTube videos, you have the option of using keywords to put into your video title, description, and tags. Using specific keywords across all three options will make your video very quick and easy to find when they search them. That being said, it's also important to use clever titles and good descriptions. Integrating keywords with engaging titles and interesting descriptions increases likelihood that someone will choose to click and watch your video above everyone else's.
YouTube Marketing Company
While YouTube is the best place to start posting your videos, it's also important to utilize any and all additional social media websites. Facebook, Twitter, and Instagram all have video linking capacities to share your media. It's very smart to link your YouTube videos to your additional social media sites, because when the video strikes their interest and they're linked to your YouTube site, it gives them the opportunity to view your additional videos; creating online traffic on your YouTube site which is always awesome for business.
Okay, let's say you've taken all the right steps up until this point in the process. You've hired your professional video production company to create for you a video of Hollywood quality glam and stardom, you've posted your formatted and witty video to YouTube, you've worded an engaging title with keywords in your description(s), and you've linked your video to your corporate training video production company's Facebook page. Am I done yet? Do I just sit back and wait for the magic to happen? Nope! You brand brand brand brand brand!
Branding Tips
Branding is imperative for any traction to take place between the success of your video's viewings, and the overall success of your business. Branding your YouTube channel provides an opportunity for people to regularly visit your channel and view all of your videos. Creating online YouTube traffic does not go unnoticed – if YouTube sees your channel and video(s) are frequently getting more and more attention, they will often present to you different opportunity that help promote your business: videos will come first on the search, large advertising companies will offer money to advertise with you, the list goes on! Online traffic means loyal customers, and internet or no internet, that is the #1 rule of all successful business: loyalty.
Branding Tips for Small Businesses
Branding extends beyond your YouTube channel. People want to know there is a human behind the channel and videos they frequent. Online customer response and feedback is an excellent way to brand the personality of your business. Viewers will often leave commentary and feedback on the videos. By publicly responding to them, you show the rest of the viewing audience that you are attentive to your YouTube videos and channels.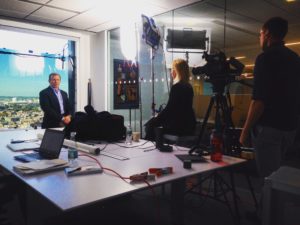 There is no denying the sheer power and success of the YouTube online platform; professionally putting yourself and your business on video and sharing it with the world only makes you more powerful and successful. It is your tube, after all…