Boston Corporate Training Video
As one of the best video production companies in Boston, we have produced a fair share of corporate training videos. Recently, Skillman Video Group worked with Boston Children's Hospital to produce medical training videos. The training videos involved hospital protocol for bio-containment of the ebola virus.
Best Video Production Companies in Boston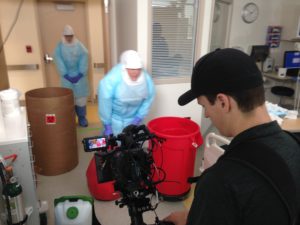 The pre-production process was incredibly important for this video shoot. Although we aren't in the medical field, SVG dedicated over 40-hours to the pre-production process which can include client meetings, internal team meetings, writing scripts, scouting shoot locations and coordinating between crew and the client.  After meeting with the individual departments at Boston Children's Hospital, the Boston Video Producers at SVG developed an outline of the procedures and created scripts for the actors. For a medical training video such as this, it was imperative that we worked closely with the Boston Children's Hospital staff. Again, because bio-containment isn't our first profession, we needed to know all we could about the procedures (which were extensive) in order to create the scripts, shot lists and narration. Though the procedure list and the script was reviewed before the shoot, we had to make some changes the day of. We understand that video shoots can throw some curve balls at times, but we are always prepared to make quick changes or edits n the fly.
Medical Training Video
Overall, the video shoot spanned three days and was shot in the hospital's labs, emergency room, SIM laboratory, clinics and even conference rooms. For this particular medical training video series, we had all hands on deck. To ensure everything ran smoothly, we had an Director, Director of Photography, audio engineer, hair and makeup, and gaffer (i.e. lighting crew) along with our hospital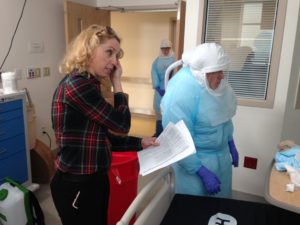 staff and volunteers. In addition to our production crew, we also had a infectious disease control expert from the hospital present at all times to check if our shots/dialogue was accurate. If anything needed to be changed, our Director and crew were able to adapt on the fly. Obviously with medical training video content, every procedure needs to be the most up to date and correct.
The shoot was broken down into three parts:
Day 1: The first day was shot in the stimulation lab. This part of the medical training video involved the cleanup of a room after a patient was discharged. We also shot the preparation of blood samples for an ebola patient.
Day 2: The second day was shot in the emergency department and the protocols in place to protect hospital staff and patients from a highly infectious disease. In the afternoon we moved to a clinic area where we focused on doffing the PPE (personal protection equipment) suit.
Day 3: Besides shooting the procedure of putting the PPE suit on, we also shot video in the hospital's lab covering lab protocols for ordering lab tests with a suspected ebola patient.
The Medical training video involved a lot of moving parts. From pre-production to production and to post, we are excited to have been involved with developing another successful corporate training video for a prominent hospital in Boston.
Stay tuned for the final product.
Skillman Video Group LLC specializes in Boston video production. Call us anytime at 1-800-784-0140.