Skillman Video Group is very excited to offer corporate video training as a new service for both ongoing and prospective clients. Based on our experience working in a wide variety of settings, SVG can offer customized training sessions that are tailored to your organization's requirements. The ideology behind our training scheme reflects our work ethic and mission: we strive to create a dialogue that allows us to better understand our client's specific needs. This isn't a generalized video production program, but rather a focused and precise means of providing the know-how for companies and institutions to start creating in-house marketing content.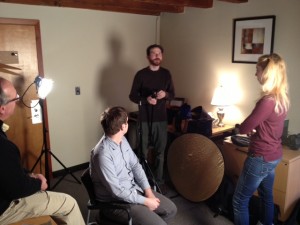 The kind of content may vary, and the associated training will vary as well. For example, your business might want to learn the technique necessary to shoot a series of testimonial videos. Skillman Video Group would then work to create a structured environment in which to teach and practice the required skill set. From lighting to audio, from directing to editing, SVG can walk through the process of producing and maintaining first class content.
We are even able to offer advice and guidance on equipment purchases. Through this customized experience, the experts at SVG can assist you in finding the optimal kit for the specific content your looking to create. The wide world of production can be a daunting place, but with our helping hand, your organization will be producing in-house videos or marketing content in no time. Contact Skillman Video Group if you're interested in top-notch corporate video training!