As a business owner, you understand the power of marketing to educate customers on the value of your product or service, and ultimately generate new business. You want to stay relevant and have your marketing content be impactful, poignant and relevant to the essential nature of your business. 
In 2020, people crave human connection more than ever – they don't want to do business with a faceless entity. For businesses who view their employees and client relations as their best assets, failing to include these faces in your marketing strategy will leave prospects without a sense of who you are, how much you care, and what it will be like doing business with you. Video allows you to connect with your audience on a real and human level, encouraging them to see you as people just like them. 
It can be difficult to keep up with current terminology, but as a business looking to start in a video endeavor, being educated on the differences between video companies will save you time, money and heartache by preventing you from starting with a company which will fail to serve your needs.
When you choose to embark on a video project, it's essential that the company you choose offers the right level of service for the scale and nature of your venture. Though this choice might feel daunting, understanding the key differences between video companies and what their niche is in what we call the "video ecosystem" will make it easier to find the right fit for you.
The Video Ecosystem
"Video" often tends to be lumped into one big category. In reality, the world of video is diverse, with several tiers of video companies, ranging from freelance videographers, to the company which offers the highest level of service  – the video agency. Each type of company fills a niche, offering services which will be best suited for certain types of projects.
When you think of corporate video, your first thought might be "video production company." Video production companies are the most common form of video company, and are popular because of their savvy in video and the arsenal of tools at their disposal. Unlike a freelance videographer, who is mostly limited to shooting simple projects, a good video production company, with the best producers, equipment, and editors, will have the bandwidth for larger projects, as long as you provide them with clear-cut creative direction.
A video agency is not a video production company. Unlike the video production company, the video agency, though a master at the craft of video, isn't just there to show up and shoot. The "video agency" – which is a relatively new term – offers much more than your typical video production company, which may be experts at video, but will ultimately be unable to deliver a comprehensive creative strategy, keeping in line with your brand standards and target audience.   
The Creative Director as Architect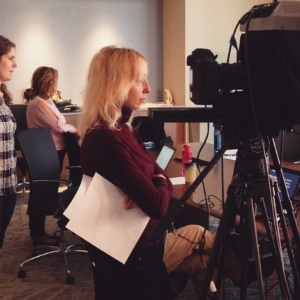 The number one component which makes a video agency unique is the creative director. Not only does the creative director understand the mechanics and soul of video on an intimate level, they act as architects to craft your video strategy from the ground up. Like an architect, they will work with you to create a blueprint that both fits your vision and is suited to the demands of video and the psychology of your audience.
The mastermind of the video agency, a creative director will work with you from day one to ask questions, get clarity, understand your goals, and transform your abstract ideas into video. A great creative director is curious, highly communicative, and able to intelligently and conscientiously plan, as well as be skilled directors of the shoots themselves. They will be able to pick out your most important themes and transform that concisely into the video format. 
With You From Day One
Unlike the video production company, which needs a clear plan from you before going into a shoot, a video agency is with you from the start to figure out what your needs are and make a plan to execute that in video. 
A video agency will be with you to answer questions and concerns from the first initial meeting through the final rounds of post-production. Any video production company will go through pre-production, production, and post-production, but a video agency goes above and beyond. A video agency will typically have a process that focuses heavily on what we call "discovery" — essentially learning as much as they can about a company before we even begin to plan for a video. A video agency will use that information to craft a video which is tailored to you and your needs. You can learn more about Skillman Video Group's unique production process here. 
A Strategic Approach to Video
Video isn't just about the creation of elegantly packaged visuals  – in a video marketing campaign, each video, and each shot within that video should serve a distinct purpose to educate your prospects and ultimately garner new business. 
A video agency understands this, and through consistent and hard-hitting discussion and examination, will strategically construct a brief for video content that addresses your key needs and pain points. Every detail is considered within the scope of the video, and within the big-picture marketing scheme – in SVG's case, the hub-and-spoke model with the brand video at the center. In a comprehensive video campaign, a great video agency will employ the theory of the sales funnel to guide potential customers through a psychological path which will help them know, like, and trust you. When a customer is convinced of these aspects, and your product fits their needs, they will buy from you. This is ultimately the goal of any marketing campaign.
For Big Projects
Do you want to start marketing through video, but have no idea where to start? Do you have an idea for a video, but are unsure how to execute it? Are you ready to embark on a long term video marketing campaign? Is your company complicated, and you need someone to help you explain it concisely? Have you engaged with a video vendor in the past where the end product didn't come out how you wanted and you couldn't figure out why? 
If you answered 'yes' to any of these questions, you might need a video agency. Unlike a video production company, a great video agency will love difficult projects – these types of projects fuel the video agency and is where its value is added. 
Skillman Video Group's Guarantee
Skillman Video Group prides itself in its grit, can-do attitude and commitment to excellence in all forms. We reveal the souls of companies and work to use the medium of video to connect your company to its tribe. Our guarantee is that you will be happy with your video or we will reshoot it at no cost. We love our clients and love learning about the passion that you have for your business.
To learn more about how we can help you, email us at info@skillmanvideogroup.com and we'll be thrilled to begin to dive into a new video venture with you.