Corporate Video Production
Skillman Video Group was hired to be the production team for the American Orthopedic Foot and Ankle Society. Otherwise known as the AOFAS. This particular corporate video shoot was on Friday, July 13th in Boston, Massachusetts.
This corporate video shoot consisted of a series of interviews with each being scheduled a half hour apart. The crew consisted of Chuck Green, the director of photography, and Bridget Wixted, the production assistant. They shot surgeons who were former presidents of the society. The interviews, la
ter told to them by the society's marketing agent, were to be sent to aneditor to be used for a video that would be played at the society's anniversary.
The day began at 8:30 AM. In Boston video production, the day usually begins bright and early. Since the first interview was at 11 AM, the crew needed the time to set up all the production equipment. That included several lights, a green screen, microphones, and a video camera on a tripod. The crew worked until 11 AM, finalizing everything once the first surgeon arrived.
The Interviews
Jessica, the society's marketing agent, conducted the interviews. She asked the former presidents questions, and they answered with grace and sophistication. They had been presidents of this society after all. They knew how to speak publicly and were very comfortable in front of the camera. During the interviews, the room was silent. If there was a loud noise disruption, the interview would have to re-start from the beginning.
Throughout the day, seven interviews were conducted. Production ceased at around four o'clock, and Jessica left with the footage from the day. The director of photography and the production assistant worked on dismantling the set. The green screen, the lights, the C-stands, the microphone stands, the camera and tripod: all of it had to be taken down and put back in the cases they came from. This took about an hour.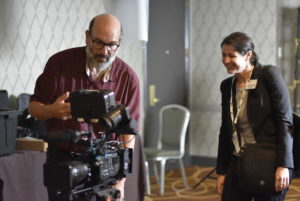 Finally, the crew was done around five o'clock pm. Not bad for a day on set! Sometimes shoot days can last up to ten hours. Boston video production requires very long, productive days.
All in all it was a successful shoot. The set up was long but necessary, the actual interviews themselves were quick and easy, and packing up at the end was fast. The AOFAS's video should turn out to be excellent due to our hard working Boston video production team.
Skillman Video Group LLC is a Boston video production company. Call us anytime at 1-800-784-0140.