Boston Educational Video Production
Showcasing Ducere's Partners
This week, Skillman started work for one of our newest clients, the Ducere Foundation. We met and interviewed 3 high-level industry thought leaders, each of them with their own story and impressive body of achievements. This was a challenging shoot for our video producers due to each of the shoots being in a different location. Ducere had requested a very specific equipment setup: 2 Canon 5D's, a Zoom audio recorder capturing from a boom mic and a lavalier, and a standard 3 – way light kit. Each space had different challenges and advantages to offer us. Our first interview took place in the the home office of the founder, President, and CEO of Asian Global. She gave us an in-depth look at her work with Rwanda and more positive ways in which we can invest in developing countries. We were fortunate here to have good natural light on a clear day, requiring only a backlight to tone down the shadows.
Location, Location, Location
Next we headed to Kendall Square to Merrimack Pharmaceutical to interview the co-founder. Here the space was a large manufacturing and research space which has yet to be set up, giving us a visually striking setting for the interview, and requiring few adjustments to lighting. The open space gave us plenty of options for the shot, and lent us great aesthetics to accompany the insightful content. We were thrilled to be able to provide good visual variation for Ducere's interviews.
Our last location was at the Asian University for Women Support Foundation, with the founder of the Asian University for women in Bangladesh. We conducted the interview in their conference room, which offered a different challenge on the last leg of our schedule due to the small size of the space and lack of good natural lighting. Quarters were tight, but our team set up a great shoot, using every piece of equipment we had, and garnered us some great information about the Foundation and the journey that has led to it's success.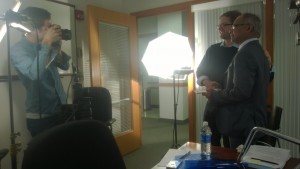 At the end of the day, Ducere ended up with three unique and well-crafted material to showcase, and our team was able to work with set resources and variable environments to maximize the quality of the end result.
Skillman Video Group LLC is a Boston video production company. Call us anytime at 617-858-8232.