Intern Work! Documentary Style Video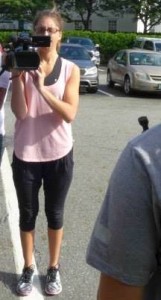 Creating a video from scratch is no big deal for video production professionals at Skillman Video Group, but being the new intern and having the privilege of producing my own SVG documentary style video was a little intimidating. Each SVG intern has the opportunity to come up with a video concept, film, and edit the video to be shown online. I graduated Norwich University last spring with a degree in communications so tasks like this weren't unfamiliar. Interns in the past have used humor and different video styles. However for a recent college graduate specializing in editing, pitching a concept and filming was out of my realm of expertise. Yes, I have done a good amount of filming and producing back in college, but I am in the real world now and a video production corporation isn't looking for an average college video. SVG wants something that will stack up to their videos and professional approach.
Concept
Over the past month I have been on two different video production shoots with SVG. One was a commercial style and the other documentary. At school I was most use to working with documentary style shoots and seeing that SVG had recently produced a video using this technique I thought it would be the best set-up. Yet, before figuring out the setting and interview style, I had to decide my topic. What separates a good video production company from a great video production company is being able to bring an idea to life. It takes experience and knowledge. My first pitch was anything but exciting. I tried to go the route of using humor but after much discussion with my superior we decided that it would be a reach. With guidance from Christina Skillman, SVG founder and producer, we were able to come up with a concept th
at would help SVG clients better understand the production process and what they need to have in before deciding to create a marketing video.
After learning more about video marketing and storytelling I needed to take all my knowledge thus far and produce a video that would drive attention. However, this is easier said than done.
Outline
Before filming, I created an outline of questions I would ask Christina and a list of B-roll I needed; and like anyone working in professional video production I also outlined how long set-up would take and my concept for the video. Interviewing Christina was a no brainer for she is the founder of SVG and has over ten years of video production experience. Her background and knowledge about production would drive the video and provide helpful insight to businesses looking to develop a marketing video.
Filming
Filming day arrived and I lugged in my camera and lighting equipment through the SVG doors. Though we filmed in a small office space, I knew I wanted to include the rustic brick walls as the background. When producing a video a crew is bound to run into some difficulties or set backs, but the only issue we had this day was making sure sounds from the streets of Boston wouldn't be heard over Christina's voice.
Though producing a video for SVG can be intimidating, my superiors made me feel comfortable and helped me through the day. Their prior knowledge and suggestions made for an easy day of filming and hopefully post-production will run just as smooth.
Skillman Video Group LLC is a Boston video production company. Call us anytime at 1-800-784-0140.