Live Event Video – University Doctoral 2019
Live events can be tricky. After spending months researching, planning, and putting together a meaningful presentation or performance, you want your event to survive even after it has taken place.
Video documentation can act as a means of sharing your live event as it happened, so that others can learn from and enjoy your content. Choosing the right company to do your video can be very important, as there is only one chance of getting it right. In these situations, it is important for videographers to work "on their toes," to ensure that everything is being shot correctly, while remaining unobtrusive.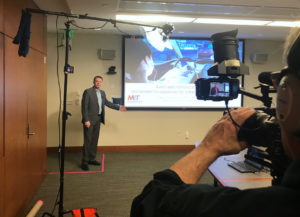 Our last shoot was a client that we have been working with since 2014, the MIT Sloan School of Management. Every year, the school holds a doctoral research forum and thesis prize presentation. This year, there were eight contestants who each gave roughly fifteen minute presentations concerning their doctoral thesis. We used two cameras shooting 4k quality video to shoot different angles on the speaker, and used a small iPhone rig to record the PowerPoint presentation that the speaker's used, so that we could line up the speaker's voice with the actual PowerPoint file which was provided to us later. To make the speaker brighter and more legible, we added a single, mid-sized light, as the space would allow. Our hosts recorded audio, which was fed to our cameras via XLR cable.
As opposed to our usual 2-3 minute brand and marketing videos, we consider these kind of videos "documentation," as we record the entire event as it happened without truncating. In post-production, our job consisted of splicing the two camera angles along with the PowerPoint slides in order to create a cohesive video. We added minimal motion graphics, introducing the name and thesis title of each speaker, and color corrected as needed. When the video was completed, it was posted on the school's website for educational purposes.
If you have a live event happening soon, make sure you have it covered – for experienced videography you can trust, contact Boston video production company, Skillman Video Group at [email protected] to learn more.
Our video for the MIT 2019 Thesis Prize Winner, Sergey Naumov, is included below.