Live Video Production, Boston MA.
How to Film a Live Event
Typically, when in the business of professional video production, there is a script to follow. When creating live video production though, this is not so much the case. There may be a schedule but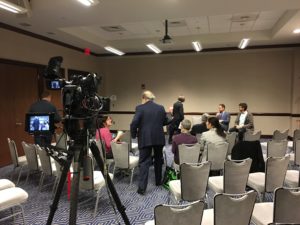 typically, there isn't a script for the people in front of the camera to follow. This is what makes live video so exciting and also daunting, it is like real life in that anything can happen at any time. The thing we have to be concerned about as a Boston video company is to make sure we capture it all with clarity and professionalism.
Live Video Production Shoot
This past week, Skillman Video Group was asked to shoot a live panel discussion hosted at Loews Boston Hotel for the global publisher, Routledge. This event was a live discussion led by a panel of professors and experts on the topics of religion, politics and how the two influence each other. It ended up being an incredibly enlightening discussion to listen in on. There was a palpable calmness and zen in the air as the wise and tranquil panel guests discussed such topics that typically cause divisiveness or hostility. We felt lucky to witness the experience and well-educated after the discussion.
Professional Video Production Company
For any professional video production shoot, technicalities are always topics that require extra attention.The stakes are even higher with live video production because there is one chance to get the shot or audio. Once it's past, there is no asking anyone to re-do it. For this reason, we knew we needed to focus on our audio equipment and ensure that it was reliable to produce quality, clear sound that captured the voices partaking in the discussion. We brought shotgun mics to record the audience questions as these voices may be easily drowned out by background noise or too far away from our equipment to completely hear. We also brought a designated audio assistant to lead this audio equipment. Each shoot demands that different aspects are more attended to than others. As a Boston video company with previous experience in recording interviews and panel discussions, we knew that the audio was most important and we gave it extra attention to ensure that the answers and questions could be heard clearly.
Live Event Videography
Like we said, live video production and on location shoots need careful strategizing. As a Boston video company with credible experience, we offer this service while ensuring that all aspects are taken care of and professionally executed. Live video is a truly exciting niche of professional video production and it can take you to anywhere, including the zen and tranquil atmosphere we were invited into this past week. In any case, Skillman Video Group looks forward to the next live event we are asked to shoot.
Skillman Videography Group LLC specializes in Boston video production. Call us anytime at 1-800-784-0140