Producing In-House Promotional Video
Story Telling and Corporate Video
  Last Friday, we executed a plan to produce a project that had been a few weeks in the making. Since the beginning of March, my fellow intern, Damian Marius and I have been working on a promotional video about two people who are cannot tell their story. But, our goal was to communicate an important aspect of Skillman Video Group's mission. In effective web marketing there are many ways to communicate a message, so that's why we chose to make a comedic promotional.
We know what qualities content needs to have to succeed online, which is why we wanted our video to be subtle, entertaining, and pithy. Given that we are the professional videographers that we are, we figured that we were up to the challenge.
Our video exists to communicate a fundamental principle of Skillman Video Group, which is that story people tell and the way its told radically changes how your business is perceived in the world. Which is material that is extremely easy to work with and in no way difficult to make funny. We really need a popular punctuation mark for sarcasm in the English language…
Working with Experience
At Skillman Video Group, we believe heavily in capitalizing on new opportunities by using the resources that are available to us.
I have a background in writing sketch comedy, as in the web series Pals and Friends. I looked to some old sketches we had wrote for inspiration for the script, and found one about an overly enthusiastic and completely oblivious office worker. After the script was finished, I looked to the pals and friends of the Pals and Friends crew to help produce this project.
The scale of this project wasn't too large, and the only outside crew member I brought in was my sound guy Jake Caranto. I've worked on a number of student films and other projects with Jake, so we knew how to work efficiently together. As for the other crew roles, Damian served as the Director of Photography, and I served as the director who spent most of them time working with the five actors we brought in.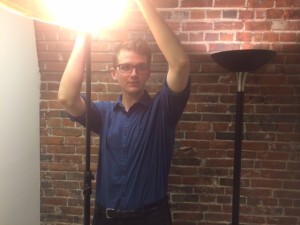 The Art of Web Marketing
Luckily the actors, (Tyler Lay, Zoe Enscoe, Christine Berry, Lindsey Hover, and Nicholas John Frasso III) were all friends who I have previously worked with, and I knew they could give great performances.
Film truly is an incredibly collaborative art, and the way our story ended up being told was the result of a creative group of people working towards the goal of creating something that clients could actually laugh along with. That's sort of why film is so interesting, and why it's such a powerful marketing tool.
With film, moving from script to screen instantly takes the creative control away from the initial "creator," if we think of that person as the writer. Each actor gives something unique and interesting to their lines, so the point is that film requires the input of several different parties. It's one of the most "involved" arts there is, and your story grows and expands with every person that's involved in a project.
My crew helped tell our story, so that we could show one way to tell yours.
Skillman Video Group LLC is a Boston video production company. Call us anytime at 1-800-784-0140.