Shooting a Marketing Video
Shooting a marketing video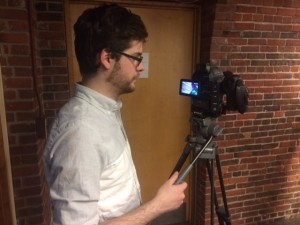 On Friday, we shot a video to promote Skillman Video Group's services at our office in Faneuil Hall. We had a script ready and a small crew, as well as actors, for the day. Our setup
was necessarily small, as the space we were shooting in was tight quarters. We had a C100 DSLR camera, a boom mic, and a light fixture to help smooth out the harsh office lighting. As the director of photography for the day, I was in charge of setting up the shots and making sure everything lined up in terms of lighting and general image quality.
Making use of available resources
We didn't have a budget for the shoot, so we used what we had available to us – some equipment was rented due to our other intern's connections at Boston University
, and our crew was comprised of other students who had experience acting or being crew for film/video. Our first set of shots took place in our office, where we had our team of two present their product to three investors, which, as we demonstrated, was a lackluster attempt due to lack of video in their presentation. There were a few simple shots to establish this scene: We first got the actors entering the room and setting up for the scene, both shot from inside the room and outside to give us some options in creating motion when editing. Then we shot the presentation scene itself, from the back, side, and front, to give us more options to cut to during the dialogue-heavy portion of the script. After those shots were completed, we moved to the hallways to shoot the prologue and b-roll, as well as get the office empty in order to record a room tone to help negate the noise of the office's air system.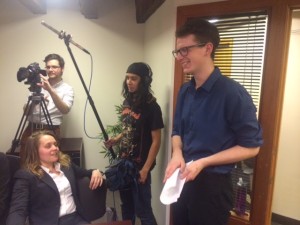 Time management
Overall, the shoot went quite smoothly. We had a limited amount of resources to work with, which, in situations where time and space are an issue, can actually help expedite the whole process
by limiting the amount of options you have. This can also help bring out creativity in terms of the process, as not having to think about some of the more complex technological circumstances that can arise on a shoot leaves one able to focus on the quality of the shots and acting. Once we made sure we had all the shots we needed (and some extra for the editing process) we struck our equipment and started on the post-production process.
Skillman Video Group LLC is a Boston video production company. Call us anytime at 1-800-784-0140.