SVG Enters the World of Production Training
Skillman Video Group is branching out and going back to school. Our experiences working in the field have put us in a unique position to begin training corporate and small business clients. We have produced, filmed, and worked in a variety of settings for a myriad of different organizations, and we have started relaying some of that accumulated knowledge and tradecraft to interested clientele.
On Friday, February 22nd, SVG hosted a training session for a marketing representative of Time Payment Corporation. The company hopes to collect a number of testimonial videos from clients across the country. While testimonials are short and sweet, it takes a certain level of technique to create a polished and affective final product. Taking on the in-house task of filming, directing, and editing could be a tall order, but that's where SVG steps in.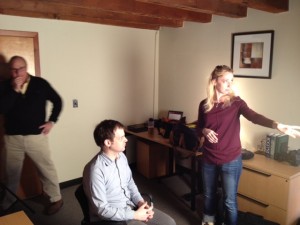 Hosting the event in our new office space in downtown Boston, we went through a step by step process in how best to accomplish the marketing goals. Keeping in mind the nature of the company's mission, we catered the training session around their exact needs. From setting up the space, to tips on lighting and audio, all the way to post production advice, SVG took the time to make sure that our client felt prepared and empowered to make the best possible content. We even provided feedback on possible equipment, comparing prices and establishing a basic kit that would suit their needs.
Whether you work for a company or are an entrepreneur looking to gain marketing skills, Skillman Video Group is poised and ready to lend you individually tailored training sessions adapted to your production needs. If you've got questions, we've got answers – and the know-how to provide those answers in a practical and efficient manner. For more information about video production training contact Skillman Video Group. Skillman Video Group is a Boston Video Production Company. Call us anytime at 800-784-0140.