Dual Purpose Shoot at SVG Offices
YouTube Marketing Tips
YouTube is the second largest search engine in the world, behind only Google. It is a valuable resource to use when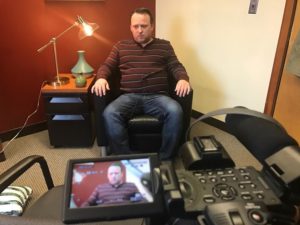 formulating your  YouTube video marketing strategy. When putting your video up on YouTube it's important to remember to fill out your description box correctly. On April 21, Skillman Video Group, a Boston video company, conducted a shoot in their office that helped explain what the description box is and how it can help your YouTube video marketing.
YouTube Marketing Company
The shoot had a couple purposes. One,  the script was written by one of our interns, who was also the talent. The video is the final project before his time with us concludes. We are also going to use it to help boost our SEO. The video is a showcase for some of the things the intern has learned throughout his time at our Boston video company.
How to do YouTube Marketing
The video is a tutorial on how to optimize your YouTube description box. The information you put in there is vital to the success of your YouTube video marketing. We had the talent talk into the camera about what should go in the box and where. One of the main things he talked about was the importance of keywords. Keywords are the terms searched for by people when they are looking for a particular product or service. It is important to put keywords into your description box because they will help your video get found easily. He also explained how other things such as a call to action and placing your video in the right category will benefit your YouTube video marketing strategy. A call to action will cause viewers to engage in your video, whether it be clicking though to your website or sharing it via their social media accounts. The more engagements a video has, the better it looks to YouTube. It is also important to match the content you produce with the category you place it in. If these two are mismatched, it will not help your SEO at all.
Skillman Videography Group LLC specializes in Boston video marketing. Call us anytime at 1-800-784-0140.