Filming a live event requires a lot of hard work and leaves little room for error. When a live event is being
shown over the internet in real time there is even less room for mistakes. That was the challenge Skillman Video Group, a Boston video production company, faced on March 22. L.E.K. Consulting, an international firm with offices in downtown Boston, hired us to film a meeting of their managing directors. Since the firm has offices throughout the world, it was not physically possible for everyone to be present. Therefore, the meeting was to be presented over the internet as a webcast to all the managing directors that could not make it to Boston.
What is a Webcast?
As mentioned above, a webcast is a live event that is presented to an audience over the internet. In technical terms a webcast is when a single source of content is distributed to a mass audience through the internet. It is a relatively new technology, with the first webcasts happening around 1995. Today, just about every news organization has a daily webcast of their reporting. They are being used by corporations more and more for a variety of reasons ranging from audience reach to cost efficiency.
Live Streaming Experience
When it comes to webcasting, you have no control over the environment. The tiniest unforeseen circumstance can wreak havoc.  Each experience brings its own set of special circumstances. You need to be prepared for the unexpected. Skillman Video Group is very experienced when it comes to webcasting. We have produced webcasts in the past for the U.S. Treasury Department as well as the Country Music Association. We have our own webcasting engineer on site with us so that the signal goes out clear. He is also the one that finds out what we need to make sure our equipment is compatible with the webcasting software.  We do our homework before each and every live webcast we produce.
Video Streaming Platforms
There are many different kinds of webcasting platforms available in the market today. Each one is different and present their own pros and cons. Some of the platforms you will find are the following:
Cisco WebEx
Adobe Connect
MegaMeeting
GoToWebinar
OnStream
It is important to remember that the platform you use should be chosen based on your needs. What do you want to get out of your webcast? If you are webcasting a sensitive meeting and need it to be secure, you may have to give up picture quality. On the flip side, if there is a presentation with a lot of slides or visual aids, you may want to go with the higher quality video. Again, it all depends on what your live webcast needs.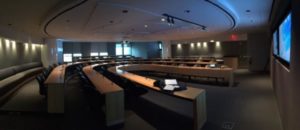 The Benefits of Live Streaming
There are many advantages to producing a webcast. The biggest one is that you can expand your audience. Since L.E.K. is an international company, it was important for them to be able to reach their team members in other parts of the world. A webcast allows for discussions to take place even if the entire company isn't in the same location. Obviously another great benefit to a webcast is the cost.  A webcast permits the people working in other countries to only set an alarm to attend. Also, a webcast permits you to engage with the audience by allowing the viewers to ask questions at various points in time during the webcast. Maybe most importantly, a live webcast can help increase your company's revenues. It does this by reaching a larger audience. If you are presenting a product out into the world, you want the most amount of people possible to see it. A webcast helps this cause.
Be Prepared
Live events can present a whole host of problems when being recorded, and a live webcast is no different. You need to
be prepared for any challenges that may present themselves. Make sure your power source is strong. You will most likely be hooking up a lot of equipment that requires electricity. You do not want to lose power during the middle of a webcast. Be sure to have enough cable as well for any a/v needs that may pop up. Maybe someone brings in another source of information and if you do not have the cables necessary to hook it up, you will be in trouble. Sometimes events go longer than expected so have enough batteries to keep recording until it is done. Do yourself a favor and rehearse the webcast, if possible. Confirm that everything is working and that the signal being sent out is clear.
Whether it is just a simple how-to video or a company wide corporate meeting, a live webcast is becoming a more viable option for people. Going into one prepared for anything is vital.
Skillman Video Group LLC specializes in video production Boston. Call us anytime at 1-800-784-0140.