2016 Boston Small Business Award
Boston Video Marketing Services
Hot off the press! Extra! Extra! Read all about it! Skillman Video Group wins this year's 2016 Small Business Excellence Award!
While we remain busy and stay humble whenever we receive awards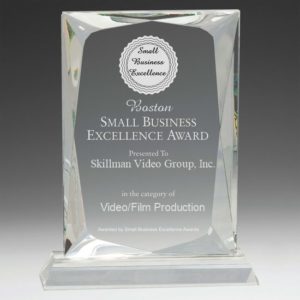 and accolades, we wanted to share with you how excited and honored we are to have recently been awarded the "Boston Small Business Excellence Award" in the Video/Production classification. When businesses are looking to video production companies to put their advertisements, corporate training videos, and other miscellaneous media on camera, it's a wonderful feeling to see how our hard work and commitment to greatness has paid off. We are proud of each and every video we've created, we are thrilled to see how businesses have benefited from using our Boston video services, and we look forward to every new client seeking out our video production team!
Video Marketing Boston
For those of you who are not familiar with this award, the Boston Small Business Excellence Awards provides this description on their website:
"The Boston Small Business Excellence Awards recognizes outstanding small businesses that serve the Boston area. Each year, our selection committee identifies businesses that we believe have achieved outstanding marketing success in their local community and business classification.
Recognition is given to those companies that have shown the ability to use their best practices and implemented programs to generate competitive advantages and long-term value. These are small businesses that enhance the positive image of small business through service to their customers and our community. These exceptional companies help make the Boston area a vibrant and vital place to live.
The Boston Small Business Excellence Awards was established to reward the best of small businesses in Boston. Our organization works exclusively with local business owners, trade groups, professional associations and other business advertising and marketing groups. Our mission is to award the small business community's contributions to the U.S. economy"
Corporate Video Production Boston
As many of you know, developing, creating, and growing a small business from the ground up is no easy feat. It requires attention to detail, dedication, hard work, commitment, and the belief that what you do will create something great. Since day one of Skillman Video Group, our CEO Christina Skillman has risen above all of the competition. From the professional video production team she regularly assembles, to the collaborative relationships she develops with her clients, she is an unstoppable force and entirely deserving of this award. She may be too professional and humble to describe herself as these things, but as one of her interns, I am more than happy to do so. On behalf of all of her employees, her Boston videographers, her clients, and everyone in between, we congratulate you Christina on your most recent award! We thank Boston Small Business Awards for recognizing Skillman Video Group, and we look forward to working with each and every one of you on your next video!
Skillman Video Group, LLC specializes in Boston video production. Please call 1-800-784-0140 to learn more.