Connected Things 2015 at MIT
Connected Things 2015 at MIT
On Thursday, our production team was on location at MIT's Ecommerce forum for Connected Things 2015. This was the 4th year Skillman has worked with the Ecommerce forum. We were tasked with creating a marketing video for the event, in order to showcase the importance of an accessible forum where business of all sizes can discuss the future of technology and the internet in our economy and our daily lives. The equipment we used for this shoot was a Sony FS7 camera and a standard boom mic. We started off in filming on a tripod, covering the first round of keynote speakers in the main forum, with our main sound running from the room's mixing board and the boom on the camera as a secondary input for ambient audio.
Among some of the bigger names at the forum such as Samsung, Microsoft, and Verizon, there were many smaller companies present in many capacities and ranging from startups to established small businesses. AFter the first session of speakers, we moved out onto the floor to get some more personal interviews with some of the sponsors and participating companies, as well as some B-roll footage to capture the scope of the event. It was a crowded room, requiring focus and coordination from our team in order to match the event's timeframe whilst capturing high quality content. A weighted camera rig allowed our FS7 to remain comfortably operational and maintain steady shots throughout.
Linking the Tech World to Connect the whole World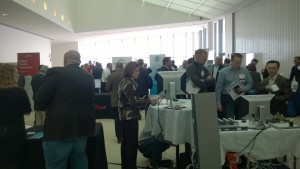 The excitement and energy in the air was palpable throughout the event, and both the speeches given and our interviews revealed how integral everyone involved felt the event was; the unanimous opinion is that the forum is one of the major conferences for the advancement of the tech industry every year. The egalitarian nature of the event was highlighted at every turn – this was a place where employees from both large players such as IBM and smaller companies like SecureRF can meet on equal footing to make connections and discuss technology and business.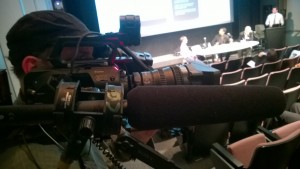 At the end of the day, we ended up with tons of amazing footage that truly captured the spirit and buzz of the event, allowing us to not only show why the fanfare for Connected Things 2015 was so fervent, but also to attract the top calibre in Tech to next year's forum.
Skillman Video Group LLC is a Boston video production company. Call us anytime at 617-858-8232.