Legal Marketing Video Shoot at Duane Morris
Skillman Video Group recently went on a video shoot at the national law firm, Duane Morris LLP. Duane Morris hired SVG to shoot a Legal Marketing Video of their Boston office for their web site.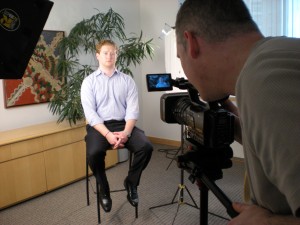 SVG shot a series of interviews with the firm's partners discussing their practice areas and experience for both internal….and external marketing purposes. Duane Morris will be using the videos to market their attorneys to potential clients, as well as to use for recruitment of new hires. The partners discussed both personal and professional topics and we concentrated on their areas of expertise, their goals for the firm, and even personal interests and hobbies.
Marketing for any law firm begins and ends with their attorneys. If your lawyers are essentially your product, then video allows a law firm to showcase those lawyers in a personal, intimate way. By allowing potential clients to see and hear your attorneys speak about their experience and goals – you are allowing them to build trust and repore with a client before they pick up a phone to call! In the legal field, where personal relationships are crucial, video marketing is the only medium that can clearly and accurately represent your services.
It is also important that your legal marketing videos look and sound professional. Lighting and audio are key components to any video shoot. If your attorneys look or sound unprofessional, it will do a poor job marketing their skills and abilities to the public! Producers at Skillman Video Group are adept and not just lighting and audio, but also directing the on-screen talent. Speaking on camera is sometimes very difficult for those who are not used to doing so in their every-day job. Our producers will work with the on-screen talent to make them feel comfortable and help them look and feel their best. Call today to learn more our Legal Marketing Videography and Video Production services!