Commercial Video Shoot at MIT
Corporate Video Production Services
On Friday, July 20, SVG spent the day at Massachusetts Institute of Technology, where several students were able to discuss the acclaimed TIES program, or Technological Innovation, Entrepreneurship, and Strategic Management. TIES allows doctoral candidates to explore commercialization and technology-based innovation, as well as the establishment of technology-based businesses (MIT). While some of the interviewees gave insight into their own dissertation processes, others expounded upon how the program paves the way for a successful career.
Top New England Video Production Company
The purpose of the corporate video shoot was to produce a series of recruitment videos for TIES' website. In each, the participants – both doctoral candidates and professors – were able to explain the premises for their projects and theses in a question and answer format. The director of TIES had an overarching message that he wanted to convey. This made the foundation for each video an easy task. Some of the talking points included:
Discussing the first two years of the program.
Exploring a specific path of research.
The process of writing a dissertation.
Finding a job after graduating from the program.
Launching a career.
Pre Production Planning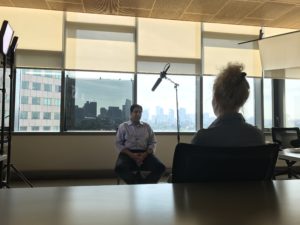 In order to put together a successful campaign, the pre-production process was thoroughly planned out. In doing so, the discovery process was an especially important step for this shoot, as it initiated communication with each of the subjects prior to the actual interviews. This was done to form an organic dialogue, and to make them more comfortable on the day of shooting. By creating a sense of naturalness, the candidates' answers were delivered confidently and with ease, making for a convincing and informative recruitment series.
Shooting took place in the Sloane School of Management, which had an excellent view of Boston and the Charles River. Every candidate had approximately forty minutes to speak, and the ease with which they presented their answers was indicative of the pre-production process' success. With the help of professional videographer, a PA, and the producer and director being present on set, the day's progress was expedient and efficient. The videos are currently in the post production process, and should be finished by the Fall.
Skillman Video Group LLC specializes in video production Boston. Call us anytime at 1-800-784-0140.