Tech Startup Brand Video – Home Equity Investment Company
In 2019, new businesses and startups are popping up all over the place, each trying to create their own niche in the marketplace, as well as compete with each other and established companies in order to promote their own unique goods and services.
To make themselves known, new businesses need to clearly establish and publicize who they are, what their values are, and what they do, for both their consumers and their investors. Alongside written statements and digital branding, video can be an accessible and compelling medium to share one's business and convince consumers that one's product or service is worth considering. For companies whose novel products or services might be difficult for a newcomer to understand, this goes doubly so.
Our last shoot sent us to Boston's Prudential Tower, where we shot a brand video for tech startup, HomeTap Equity Partners, a company that offers a new way for consumers to access equity in their homes, a kind of home investment that does not impact credit score.
The goal of our video was to share the ins and outs of how HomeTap works, in order to convince consumers that HomeTap might be the right fit for them. To do this, we recruited the company's CEO, the chief marketing officer, and several key employees. As the people running the company day to day, they were best suited to explain with confidence and expertise on what Hometap can do for its consumers.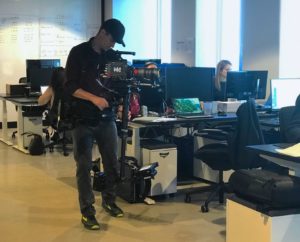 Our videographer for the shoot was expert director of photography, Jake Thomas, operating a Sony Venice camera, and using a SteadiCam, a camera rig which is attached to the body for smooth video, for B-roll, or supplementary video to be intercut within spoken interview. We used a large Kino Flo LED light and a reflector to add even, flattering lighting to our talent. Leading the interview was our CEO, Christina Skillman, using questions developed in our Discovery phase, during which we meet with clients to learn about their company and what they are looking for in a video product. The vast majority of our brand and marketing videos are 2-3 minutes long, and it's here that we learn what information is crucial to include during this short time frame. In some instances, these questions are followed directly, and in others they are used as a guide to invoke the best content from the talent. B-roll shot in the office was both natural and staged.
Because HomeTap is so centered around the real-life experience of the consumer, we felt that it would not be as effective to solely include B-roll shot around the office, but rather, to add stock footage of people doing things that HomeTap would allow them to do, such as plan a small business, or be secure and happy with their family. Additionally in post-production, we added music and motion graphics, including animated versions of HomeTap's logo and text introducing each executive, as well as music.
For high-quality compelling video with a company that cares, consider Boston video production company, Skillman Video Group for your company's branding, marketing, live event, or other needs.
Our finished video for HomeTap is included below.