Videography for a Kickstarter Campaign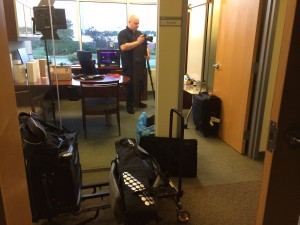 Kickstarter is a web-based platform which allows for funds to be generated for a variety of causes. While the causes may be different, the need to attract attention is the same. Some users of crowdsourcing sites choose to use text. Some choose to use images, but one of the best ways to garner attention, is through video. Video allows for people to better get to know you and your cause or product. For that reason, Skillman Video Group was asked to produce a promotional video for a client's product.
To get the job done, Skillman Video Group worked directly with the client two days in a row. On Monday night a videographer and assistant worked with the client to better understand what he wanted to get from the video as well as what type of images he wanted to show. During this time, video was also shot to demonstrate the product. By Tuesday morning there was a list of talking points, and the rest of the video was shot. The shoot took place in an office building and on location in Cambridge, MA. Skillman Video Group understands the importance of marketing. This knowledge is vital, especially when it comes to a Kickstarter Campaign, where clients try to market not only their products, but themselves. Skillman Video Group will ensure that both you and your product are demonstrated in the best light, which in turn will lead to the best outcome for your campaign.
Skillman Video Group LLC is a Boston video production company. Call us anytime at 800-784-0140.