Make the Most Out of Your Content: Content Marketing & Tracking ROI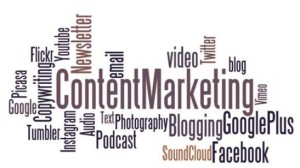 It's only becoming easier and easier to attract customers to your business online and build a larger audience.  And content marketing is key to this.  By producing content online, businesses can more easily reach and connect with people, have them visit their website, and so on from there.  But how do you know if the content you are producing is actually making a difference?  You may be wondering if your content marketing efforts are even "worth it."  Tracking your Return on Investment (ROI) is a great way to see how well you are optimizing your online content marketing strategy and whether you should continue to do so or not.
WHY ROI?
Really, why not ROI?  Return on Investment is important to your business.  You want to know if what you are doing matters, and, as it turns out, you now have the means to find out what is/is not making a difference.  If a certain piece or type of content isn't working, then you can stop immediately, save time and money, and move in a different direction.  If you find that a certain kind of content does work quite well, then you can invest more time and money in similar content when moving forward.
WHAT TO DO?
The first step is to create a list of every place you decide to showcase your content online.  For example, which social media sites do you use?  It will help to see all of your sites in one, easy to read, document.  If it is a video site such as YouTube or Vimeo, you can use the statistics they keep on every page to see how well your videos are doing.  They now even have associated website annotations to help you link back your videos better to your site.  To see if a person goes from that video to your site can be trickier, though.  There are programs out there that can help you do that.  For example, KISSmetrics or Google Analytics can be great assets.  Tracking programs such as these can help you and your business make the most out of your content.
KNOW YOUR AUDIENCE
Each site you use to promote your business has its own caveats.  Use the list you created and go through each site to see what best fits on each. For example, something like Facebook requires more of a personal and friendly touch, while Twitter or LinkedIn are better locations to reach current or possible business associates.
Grasping a further understanding of the ins and outs of these sites (in conjunction with the tracking programs) can help you optimize your content marketing strategy.
Skillman Video Group LLC is a Boston video production company. Call us anytime at 1-800-784-0140.