Networking on Social Networks
Social Media Marketing can be a great tool for establishing and promoting your business's web presence, but ineffective social media marketing can leave a shoddy digital trail. Meaning that social media marketing requires deliberate strategy, maintenance, and an outreach strategy. Without those three qualities, your social media marketing strategy could actually hurt your business's online brand and reputation.
If you're looking for pointers on your business's social media marketing strategy, then start by learning some common marketing trends to avoid.
Don't…
1) Approach every Social Network as if it were Facebook
Sometimes, businesses start their social media marketing strategy with Facebook (or Twitter, or LinkedIn, the social network that you first approach doesn't really matter), and simply copy and paste the same content across a half dozen other social networks. While this is fine for visibility's sake, doing so doesn't optimize each network's potential. Twitter is great for directly selling to consumers while LinkedIn is most effectively used to generate direct leads for businesses. A good social media strategy requires tailored content for each platform that your business has chosen to pursue.
2) Act like a Millennial
Millennials and social media grew up in an odd, tandem dance. Recent college graduates are among the first to have been immersed in a meme-centric internet culture alongside the culture of their physical community. So, there are certain mores and patterns of behavoir that intuitively make sense for millennials to perform, but appear awkward for businesses to engage in. For example, don't be the business that uses "lit," or fire emojis in your tweets just to appear young and edgy. If you want to use that "internet-speak," then do so organically in ways that make sense.
Do…
1) Try the "Native-Sell"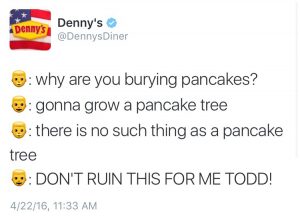 2016's consumer is saavy, and exposed to literally thousands of ads every day. The consumer knows when he or she is being sold a product or service, and will tune out the second that he or she understands that. Businesses that have successfully navigated the dimensions of social media marketing are those that create unique content for a social media platform that feels native. If your business is pursuing LinkedIn, then video content that promotes a business's value and provides real insight into further action has historically performed very well. If your business is pursuing the ever-impossible-to-crack Tumblr, then strange, funny, sometimes nonsensical content can perform exceptionally well. For example, check out the Tumblr blog for Denny's diners, which has generated real world conversations on how to rethink social media branding.
2) Tailor Video Content
In online marketing, video is queen. Well, that's been a common insight amongst the marketing gurus from around the net over the past couple years. We here are Skillman Video Group firmly support that claim, and know that video is the best way to reach potential clients and consumers. Video and Social Media Marketing can be a match made in heaven, so long as the video works for the platform it's hosted on. If you're posting to LinkedIn or YouTube, then feel free to let videos roll for a minute or longer. But, if you've chosen Twitter? Maybe, keep the videos around the 20 seconds or less mark.
As a Boston Video Production Company, Skillman Video Group is dedicated to helping your business maximize its potential through savvy social media marketing. Whether you're in the planning stages of your next ad campaign, or need some help bolstering an existing one, we're here to help.
Skillman Video Group LLC is a Boston video production company. Call us anytime at 1-800-784-0140.