What Is The Purpose of A Music Video?
Music videos  promote an artist's brand and visuals.  Most times, the music videos that are created are often the most popular tracks off an album or mixtape. There are all kinds of music videos, some with compelling stories, others as cinematic as a short film, while there are other videos simply there to entertain the viewers with not much story at all.
1.) Concept / Idea
When an artist hires a video production company to create a music video, one of the most important things for the production team to know and understand is the concept and idea.
With all kinds of special effects, any story can be told. There are  music videos that are straightforward with no special effects to videos with nothing but animation. By combining the talents of the
producers, directors, editors, and actors, it asks a team to be able to work together and understand the common goal of creating a quality music video.
Another important factor in shooting a music video is being able to plan a video shoot. Sometimes things are inevitable and out of control, but it helps the production team to plan out shots so things go smoothly for both the artist and the team.
2) Camera / Equipment / 360 Video
As a professional video production company, the equipment that the videographers use is vital.
Depending on the style the artist wants to convey with the music video, most music videos are now shot with 4k cameras. 
Shooting in 4k makes an image looks harp and great overall. The great thing about shooting in 4k is that a videographer can shoot A roll and B roll at the same time. This is possible because with 4k it allows the frame to keep the quality making it look like it was shot with two cameras. For example, if an artist was singing on a stage, and it was a wide shot, the editor could still have that same wide angle shot and switch  it to a tight shot, making it look like it was shot with another camera.
For the equipment, one of the most important pieces to shooting a professional music video is using a stabilizer or shoulder rig. This makes a difference in the video quality because it smooths out any jitter while the camera is recording.
Having smooth footage always looks great–  it is not only used to stabilize footage but can also be used as an editing tactic for video transitions. For even smoother footage while editing, programs like Adobe Premiere have a warp stabilizer effect that can make even shaky video look stabilized.
Lastly, one of the coolest ways to shoot a music video is to shoot with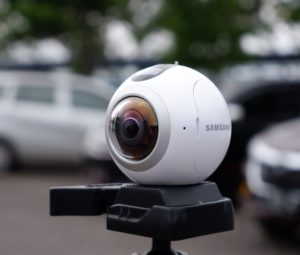 a 360 camera. It is a new way of filming music videos that not many artists have utilized yet. One of the most popular artists to shoot a music video with this type of camera is Avicii with the song Waiting For Love. This technology is an interactive music video– it allows the viewer to look at the entire set of the video and see what is happening from one side to another. With technology improving, and VR becoming more mainstream, it is a fascinating way to film a music video, with Gorillaz Saturnz Bars (Spirit House) even utilizing the technology.
3.) City / Setting
As a Boston Video Production Company, Boston is a great city to record professional quality music videos. Artists like James Taylor and Zac Brown Band  
have shot music videos in this amazing city.  
Skillman Video Group LLC specializes in Boston video production. Call us anytime at 1-800-784-0140